6689 – Walkway Over the Hudson – October 28, 2017
6689 – Walkway Over the Hudson – October 28, 2017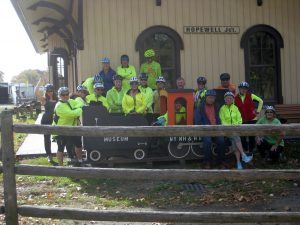 21 Tramps and 1 Son of a Tramp
A weekend adventure took 21 Tramps 154 miles south to the bike/pedestrian trailhead of the Walkway Over the Hudson in Highland, NY. Lots of people crowded the bridge, so riding our bikes across was a cautious challenge. As we started over, Chuck's son met us on his bike that he had taken on the train from NYC to Poughkeepsie. Once over and on the east side of the Hudson, the crowds soon thinned out. A beautiful autumn day and a newly paved trail took us 14 more miles south to Hopewell Junction on the Dutchess Rail Trail.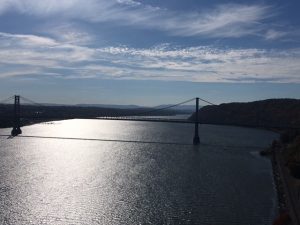 A bar and grill, "Daddy O's" was literally at the end of the trail to greet us at the halfway point in Hopewell Junction. Sandwiches, a brew, and ice cream sundaes replenished the calories we had burned on our ride there. It was a picturesque ride back on the trail and over the bridge, now even more crowded. The beautiful day had drawn everyone out to enjoy the sunshine. A repeat of this bike has been requested, perhaps in the Spring. Total distance of the bike: 28 miles.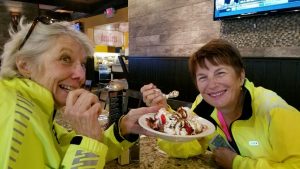 Some of us had reserved rooms at the Rip Van Winkle Motel in Leeds near Catskill in anticipation of Sunday's hike to Inspiration Point and Kaaterskill Falls. Linda at the motel recommended Pomodoro's in Catskill for our dinner. The Italian fare was delicious. The drive back from the restaurant to the motel proved to be confusing. One would think you would only have to retrace your steps. That was not the case. In the dark the road signs were poor and many of us got twisted around. Jim and Lorrie ended up crossing the Rip Van Winkle Bridge and found themselves on the other side of the river in an undesirable area! Apparently there is another Rip Van Winkle Motel on that side too! An hour later they finally found the right motel, having been guided back step by step on the phone with Steve at the office. Lesson to be learned . . . Never trust a GPS!