6721 – Rome Sand Plains –
February 11, 2018
6721 – Rome Sand Plains –
February 11, 2018
Write up: Debra Roberts
Leader: Halsey Bagg
Co-leader: Debra Roberts
Originally, this hike was planned to be Selkirk Shores State Park on the shores of Lake Ontario. However, weather predictions of freezing rain made us decide to keep it local. Seven people braved the weather and met at the McDonald's on Erie Boulevard. We hiked a trail off of Oswego Road in the Rome Sand Plains.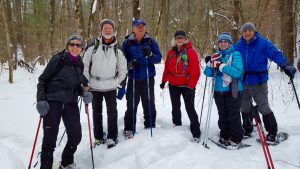 The hike started in deep snow on a trail we had broken the day before. We decided to take a side trail for additional length. During this 1.4 miles side trail the rain began. It started as a drizzle and before long was a steady light rain. At the completion of this trail we decided not to continue on the two miles we had planned.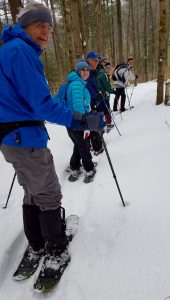 The most challenging event was when Halsey started to redo the loop we encountered at the middle of the trail. Fortunately, Walt started to question the direction of the footprints we were stepping on, and with Deb's insistence that Halsey check his navigation system, he redirected us. We thought we had gone into the loop in a clockwise fashion, but in fact had been in it in a counterclockwise fashion.