6641 Bike Ride Around Verona
June 11, 2107
6641 Bike Ride Around Verona
June 11, 2107
Write-up: Jerry Stewart
Leader: Jerry Stewart
Co-Leader: Carolyn Eastman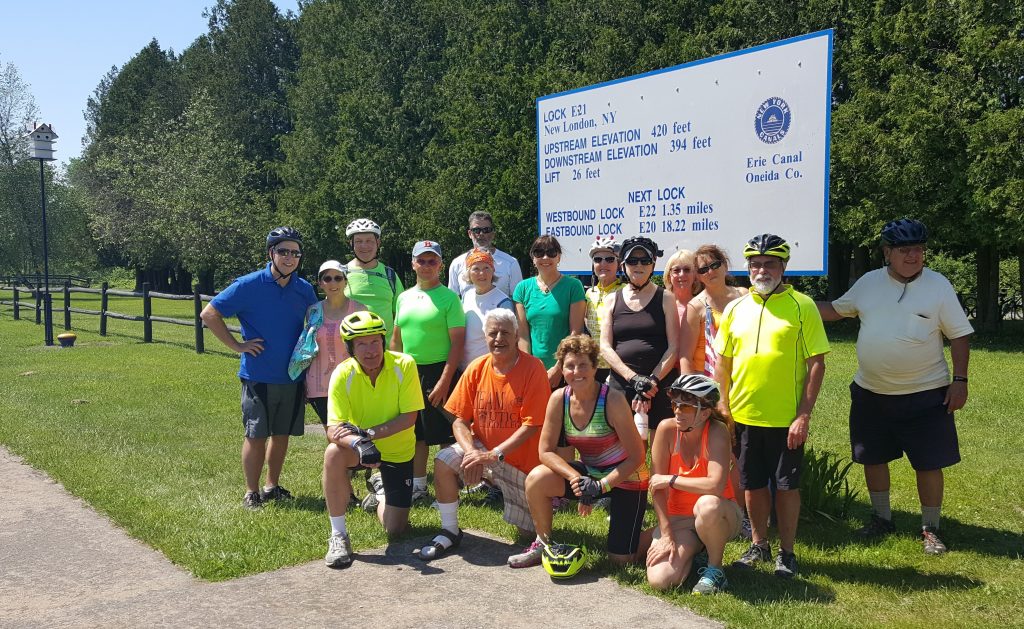 Sunday's bike ride with the Tramps…20 hearty souls braved the 90-degree heat and followed me on what was supposed to be a 15 – 20 mile ride. I was close, it turned out to be 25 but what's 5 miles among friends? It was a great ride, such a nice day to be out and share my hometown with my friends. As we got to Lock 21 there was a tug and 2 barges going through. This is the same one that delivered new brew tanks to Genesee brewery in Rochester. We chatted with the deck hands, they said they were not giving any samples while there. How rude! I tried to get them to sing an old canal song, "Low bridge, everybody down. Low bridge, we're coming into town."
A few knew the song, fewer knew the words. All were impressed with my bass singing voice.
At the end of the ride I took those who were interested to the VFW, a local hot spot for very affordable beverages. Those who came were impressed and will most likely stop there again when they are in the area. As always, I try to chat with everyone as we go along. Sharing stories and planning our next adventures.  You only get one shot in life, I'm not spending mine sitting. Come along and explore.