6678 – OK Slip Falls –
September 17, 2017
6678 – OK Slip Falls –
September 17, 2017
Write-up: Meg Higgerson
Leader: Meg Higgerson
Co-leader: Grace McNasser
It was a warm, beautiful fall day when 14 of us regrouped at the Speculator Fire House before heading to the trail head near Indian Lake. At the trailhead, we enjoyed Grace's delicious biscotti and banana bread.
Throughout the summer, the trail had been reported as wet and muddy but lo and behold, it was well traveled, well maintained and rarely wet!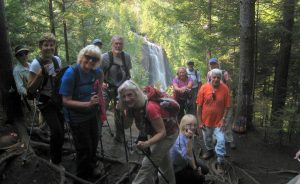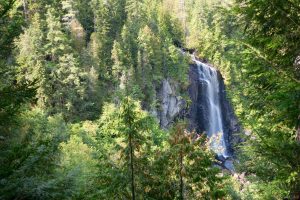 After many ups and downs, we reached the top of the falls for spectacular views from the lookouts. There we took in the scenery and had our lunch.
Following lunch we decided to hike an additional .8 miles to the Hudson.This was a steep, root and rock-filled trail with a number of switchbacks that overlooked the river way below. On a few occasions, we stopped to question whether we really "needed" to go further!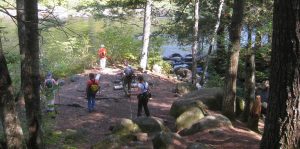 The Hudson's shore that we hiked to this was downstream from the Blue Ledges, and had a nice sandy beach. There we rested and some of us cooled off in the water while contemplating the return climb. With visions of more banana bread and biscotti, we just plugged along up the hill until we reached the trail junction and finally the parking lot.
A great time was had by all as we discussed our hike over a beverage in Indian Lake.