6716 Fellows Hill January 27, 2018
6716 Fellows Hill January 27, 2018
Write up: Debra Roberts
Leader: Debra Roberts
Co-leader: Halsey Bagg
The day started with a weather report stating a 40% risk of rain in the Tully NY area starting about 1pm. With a 10:30 am start the risk seemed low.
After meeting at the Madison Central School parking lot, the group of 18 caravanned, stopping at the McDonalds in Cazenovia to Morgan Hill State Forest to hike the Fellows Hill Trail.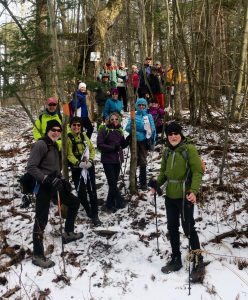 Apples and candy, not candied apples, were offered to get everyone at the trail head, so Halsey didn't have to carry them up the hill.
The hike started with an ascent of almost one mile to the hill top, which is the second highest elevation in Onondaga County. There was discussion at the summit about Don Fellows' relatives who were from this area and probably the namesake for the hill. We entered into the registry box at hill top "1/27/18 – 18 Tramp & Trailers".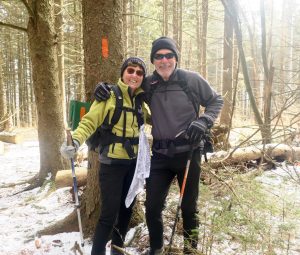 Deb & Halsey had pre-checked the trail the previous weekend when there was over a foot of snow by snowshoe. The trail looked much different in many spots as most of the snow had melted with the rain during the week and the ground had refrozen. Micro-spikes ended up being the preferred footing and at each rest stop more and more Tramps put them on.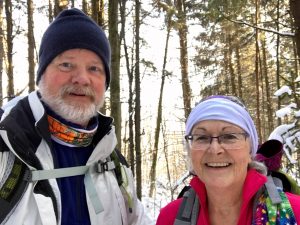 Lunch was on a peaceful spot with enough downed trees for everyone to find a seat.
Circling Spruce pond, we stopped to read a display documenting the "North Country Trail," which intersected with our trail. Halsey challenged the group to find the mysterious coffee pot he and Deb had seen last week.
The remaining part of the 3.9 mile hike was a gradual descent alongside a cascading stream engorged with the snow melt off. The trail map looked like there was a side trip to see a waterfall, but in reality the trail had to circumvent the step sides of a ravine.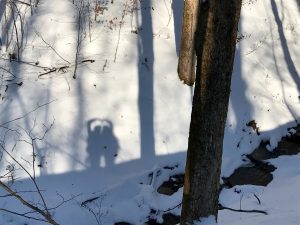 Finally, near the end of the hike, the group stopped at the place near where Halsey had seen the coffee pot. After a while, Kathy Countryman spotted the old and decaying Granite Wear blue and white swirl enameled coffee pot about 15 feet in the air hanging on a small tree branch.